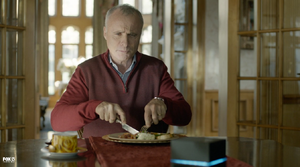 Benjamin Brinton 
was the husband of 
Pamela Brinton
, a wealthy socialite and philanthropist.
In "Got Milk?", Pamela hosts an auction for her work with her foundation that saves dogs. While she explains her work, she jokes with Catherine for being an avid cat lover. As the auction begins, a member of the audience starts to cough up blood. The following day, Pamela and Benjamin discuss Catherine and her husband Robert's new purchase of an underground bunker. Meanwhile, Pamela becomes worried about the viral outbreak as their housekeeper Christina has died as well as a number of Donald Trump's presidential successors.
As time passes, Benjamin eventually gets the virus and parts ways with Pamela.
Benjamin was portrayed by Timothy V. Murphy.
Ad blocker interference detected!
Wikia is a free-to-use site that makes money from advertising. We have a modified experience for viewers using ad blockers

Wikia is not accessible if you've made further modifications. Remove the custom ad blocker rule(s) and the page will load as expected.