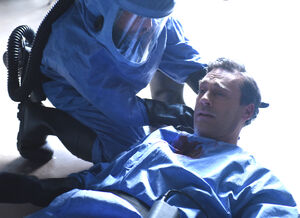 Darrell 
was one of the armed intruders that stormed the Malibu mansion in "
General Breast Theme with Cobras
".
After planning to go to Hawaii with Pat Brown and Lewis Ha, Pat notices the lights of the Malibu mansion, while on his boat. The three head towards the mansion with weapons and hazmat suits on, but when they arrive at the mansion, they scare the Malibu group. Melissa threatens to shoot them unless they put their guns down, but with Pat refusing to, she results to shooting Darrell. Following his death, he is buried next to Gordon Vanderkruik and Phil Miller (II).
After a decision to move elsewhere, the group says goodbye to the deceased including Darrell in "You're All Going to Diet". He was indirectly mentioned by Phil to Melissa as a "guy she killed that she did not know' during her wedding with Todd in "The Big Day".
Darrell was portrayed by Jon Hamm.
Ad blocker interference detected!
Wikia is a free-to-use site that makes money from advertising. We have a modified experience for viewers using ad blockers

Wikia is not accessible if you've made further modifications. Remove the custom ad blocker rule(s) and the page will load as expected.