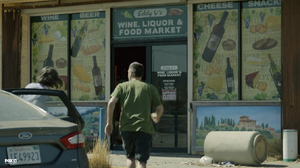 Eddy V's
is a local wine, liquor, and food market located in
San Jose, California
.
In "Mama's Hideaway", Gail comes here to pickup some liquor in retaliation from Carol, who says she has a drinking problem. After getting some liquor bottles, her prison bus breaks down and she uses a nearby pizza delivery car to return back to the building. She goes inside another building in the complex, but ends up getting stuck in the building's elevator.
In "Whitney Houston, We Have a Problem", Phil, Carol, and Todd search here for a missing Melissa and Gail. They find the market empty, as well as the prison bus dead, but when Carol notices a Mama Voccola's pizza delivery car, she realizes it resembles one in the building's parking lot complex.
Eddy V's, as well as Mama Voccola's, are based off of the name of writer Edward Voccola.
Ad blocker interference detected!
Wikia is a free-to-use site that makes money from advertising. We have a modified experience for viewers using ad blockers

Wikia is not accessible if you've made further modifications. Remove the custom ad blocker rule(s) and the page will load as expected.