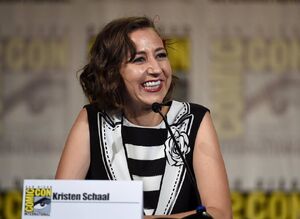 Kristen Joy Schaal
(born on January 24, 1978) is an American actress, voice artist, writer, and comedian. Schaal is best known for her roles in animation, including
Bob's Burgers
and
Gravity Falls
. Her husband,
Rich Blomquist
, is also a co-executive producer and writer for the series.
She currently portrays Carol Pilbasian on The Last Man on Earth.
In addition to starring, Schaal also made her directorial debut with "Gender Friender", which is also written by Rich Blomquist.
Ad blocker interference detected!
Wikia is a free-to-use site that makes money from advertising. We have a modified experience for viewers using ad blockers

Wikia is not accessible if you've made further modifications. Remove the custom ad blocker rule(s) and the page will load as expected.