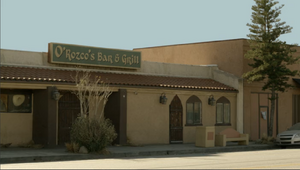 O' Rozco's Bar & Grill
is a bar that
Phil Miller
 visits frequently to relax and is home to his collection of 
sports balls
, whom he talks to here often.
Phil first goes to the bar to celebrate his birthday on June 17th in "Alive in Tucson". He is seen lightning a candle that is stuck in a Twinkie. He then remembers the last birthday he had with family members before the virus.
The bar has been featured in "The Elephant in the Room", "Raisin Balls and Wedding Bells", "Some Friggin' Fat Dude", "Mooovin' In", and "Pranks for Nothin'".
Ad blocker interference detected!
Wikia is a free-to-use site that makes money from advertising. We have a modified experience for viewers using ad blockers

Wikia is not accessible if you've made further modifications. Remove the custom ad blocker rule(s) and the page will load as expected.