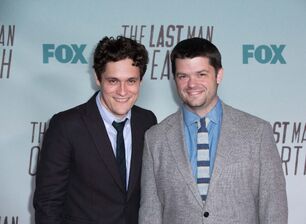 Phil Lord & Christopher Miller 
are television writers, directors, producers, and animation directors. They are best known for their work in the
Cloudy with a Chance of Meatballs
, 
21 Jump Street
, and
The Lego Movie
film franchises.
The Last Man on Earth had first originated as a feature film from the writing team of Phil Lord & Christopher Miller. They eventually brought the idea to Will Forte, who "took it in his own direction". The title character, Phil Miller, is also based off of the producers' names.
Lord and Miller also have directed the first two episodes of the series, "Alive in Tucson" and "The Elephant in the Room".
Ad blocker interference detected!
Wikia is a free-to-use site that makes money from advertising. We have a modified experience for viewers using ad blockers

Wikia is not accessible if you've made further modifications. Remove the custom ad blocker rule(s) and the page will load as expected.