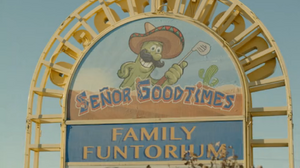 Señor Goodtimes
is a theme park that 
Melissa
and 
Todd
 visit in "
Some Friggin' Fat Dude
". 
With the addition of Todd in Tucson, Carol Pilbasian attempts to set him and Melissa up together. Inviting them to a group outing, Carol pretends to be sick, in order to ditch them to have a good time. Todd and Melissa have a good time golfing and go karting there. The two have a taste test and hold hands with angers Phil Miller, who secretly has feelings for Melissa.
Ad blocker interference detected!
Wikia is a free-to-use site that makes money from advertising. We have a modified experience for viewers using ad blockers

Wikia is not accessible if you've made further modifications. Remove the custom ad blocker rule(s) and the page will load as expected.