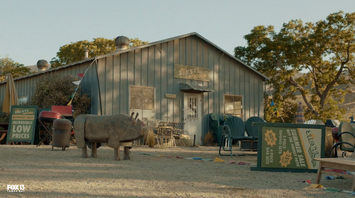 Siesta Patio World is a patio furniture store where the group resides after losing all of their vehicles in "Five Hoda Kotbs" after heading on a road trip to find a new place to live.
After deciding to spend the night there, they try to pick a place to live, but after two hours a compromise still cannot be reached. Gail then decides that she wants to go to Napa, California. Phil tries to persuade Gail to stay as they are a family, but he is unable to and decides to leave. As Todd tries to persuade Gail to stay, Melissa yells at the group to check out the view. Todd walks over to Melissa to tell her to come down as forced by Gail. He objects but Melissa insists to check out the view. Todd does so and invites the group over to check out the view, which is a bright light. They travel to the light to discover a fully lightened up building, which completely surprises everyone. 
Ad blocker interference detected!
Wikia is a free-to-use site that makes money from advertising. We have a modified experience for viewers using ad blockers

Wikia is not accessible if you've made further modifications. Remove the custom ad blocker rule(s) and the page will load as expected.