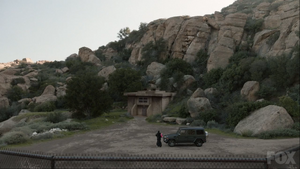 The Bunker is an underground shelter where Pamela Brinton and her dog, Jeremy took residence after the potential virus in 2019.
In "Got Milk?", Pamela Brinton and her dog, Jeremy took shelter at the Bunker that was originally purchased by Catherine and her husband, Robert. After entering in the bunker, in order to survive the virus outbreak, Pamela and Jeremy begins a life in the bunker. For three years, after the tensions between Pamela and Jeremy, Pamela threatens to kick him out. She opens the door, but Jeremy ends up running far away from her, leaving Pamela heartbroken and devastated. For months, when Pamela begins to tinker with the bunker's surveillance drone, she ends up flying it over the Malibu mansion and spots Gail drinking and relaxing on the chair outside. The drone ends up flying back with a low battery. When the drone recharges, Pamela flies it back and spots Erica, Todd, Gail, and Carol with signs. But the drone goes out as a result of Melissa shooting it. With the possibility of finding the group, Pamela walks out of the bunker.
Ad blocker interference detected!
Wikia is a free-to-use site that makes money from advertising. We have a modified experience for viewers using ad blockers

Wikia is not accessible if you've made further modifications. Remove the custom ad blocker rule(s) and the page will load as expected.