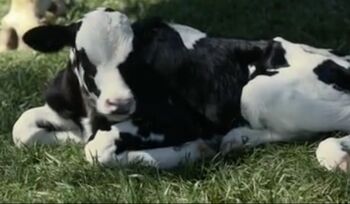 "
The Calf"
is the offspring of 
the cow
 that 
Phil Miller
 originally found in "
Mooovin' In
". After the cow begins shrieking in pain, the group discovers that the cow had given birth to a baby calf in "
No Bull
", leading them to go on a search for a potential bull nearby.
The calf's mother eventually passes away in "Smart and Stupid" and is seen mourning the loss of his mother in "30 Years of Science Down the Tubes". Carol attempts to get the calf to drink from its milk bottle for three days, but Phil ends up getting the calf to drink from its bottle.
The calf also appears in "You're All Going to Diet" being loaded up into the trailer by Todd as the group leaves Malibu and on a roadtrip with the group in "Five Hoda Kotbs". The calf also appeared in "The Big Day", now fully grown, at Melissa and Todd's wedding ceremony.
The calf is revealed to have been forgotten when the group abandons the office building and heads elsewhere in "Nature's Horchata" after discovering nuclear meltdowns will begin happening.
Ad blocker interference detected!
Wikia is a free-to-use site that makes money from advertising. We have a modified experience for viewers using ad blockers

Wikia is not accessible if you've made further modifications. Remove the custom ad blocker rule(s) and the page will load as expected.