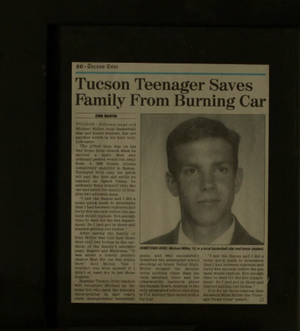 Erica has no lines in this episode.
A photograph on the wall reveals that Mike had saved a family of four, along with two dogs from a burning 1998 Nissan Altima. It also reveals that he thwarted the school shooting of Tucson's Green Valley High. More details include of his three-pointer resulting in a win of his basketball's team championship game, as well as his credentials as an honor student.
Other photos reveal that Mike had met President Obama, while Phil had achieved the goal of eating a ten-pound burrito.
Carol's drawings of older women include Goldie Hawn, Beyonce's mother, Célestine "Tina" Beyincé-Lawson, Kris Jenner, and Caitlyn Jenner.
Although returning to the Miller House, the fate of Mike is yet to be revealed from "30 Years of Science Down the Tubes" as Phil does not open the door to Mike's bedroom, but instead leaves a note on his door.
Phil takes Gary with him, after going to the Miller House.
The ending of "Mark, Mark, Mark" features a similar lyric and tune from Phil's closure song, "The Story of Us" intended for Phil (II) in "Valhalla".
In the same song, the line "Marcia Clark", refers to Kenneth Choi's role in The People v. O.J. Simpson. Marcia Clark was a prosecutor in the O.J. Simpson case.