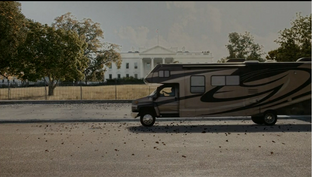 The White House
is the official residence and principal workplace of the President of the United States.
After the outbreak of the virus, Erica and Gail Klosterman had met at the White House, and became "travel buddies".
Six months after Phil is banished from Tucson, Phil and Carol arrive at the White House, while on their roadtrip in "Is There Anybody Out There?". With Carol wanting to find a place that feels like home, Phil and Carol leave the White House behind, and head to Carol's old apartment.
Ad blocker interference detected!
Wikia is a free-to-use site that makes money from advertising. We have a modified experience for viewers using ad blockers

Wikia is not accessible if you've made further modifications. Remove the custom ad blocker rule(s) and the page will load as expected.