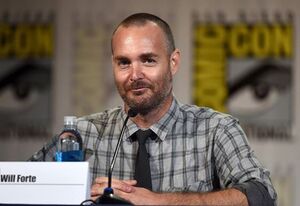 Orville Willis Forte IV
, better known as
Will Forte
, (born on June 17, 1970) is an American actor, comedian, and writer, producer, voice actor and was a cast member on
Saturday Night Live
.
He is best known for creating and starring as protagonist Phil Miller on The Last Man on Earth. Besides creating and starring on the show, he is also an executive producer for the series and was the showrunner for the first season, until giving Dan Sterling show running duties for the second season. He also wrote the pilot episode for the series, "Alive in Tucson" and co-wrote "If You're Happy and You Know It" with Erik Durbin.
Ad blocker interference detected!
Wikia is a free-to-use site that makes money from advertising. We have a modified experience for viewers using ad blockers

Wikia is not accessible if you've made further modifications. Remove the custom ad blocker rule(s) and the page will load as expected.